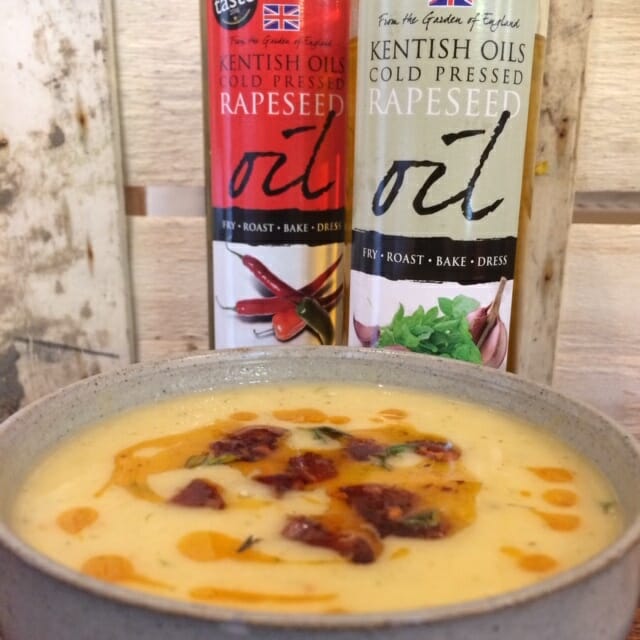 Ingredients
This soup is quick to make and is given a flavour boost by two of our most popular oils. If you want to keep it vegetarian replace the chorizo with a seed mix. Quantities can be doubled or trebled easily if you have a big group to feed.
Serves 2-3
1 small white onion finely diced
2 tbsp Kentish Oils Rapeseed with garlic
2 tbsp Kentish Oils Rapeseed with chilli
Approx. 50g chorizo cut into tiny pieces
400g can cannellini beans
400ml vegetable stock to fill the empty can
A few sprigs of thyme
Method
In a deep pan gently sauté the onion in the 2 tbsp of garlic oil until soft and translucent and just beginning to colour.
Pick the small thyme leaves from the woody stems and add to the onion, stirring through for a minute or so.
Add the entire contents of the can of beans to the pan.
Fill the empty can with a good vegetable stock (cubes or melts are fine for soups) swill around and add to the pan.
Bring to the boil and then allow to simmer for around 15-20 minutes giving the beans a chance to soften nicely.
Whilst the soup is finishing, gently fry the chorizo pieces in the chilli oil until crisp. Remove from the beat but do not discard the oil.
With a hand blender or food processor blend the soup until smooth.
Serve with a few pieces of the crispy chorizo on top and a good drizzle of the chilli cooking oil.