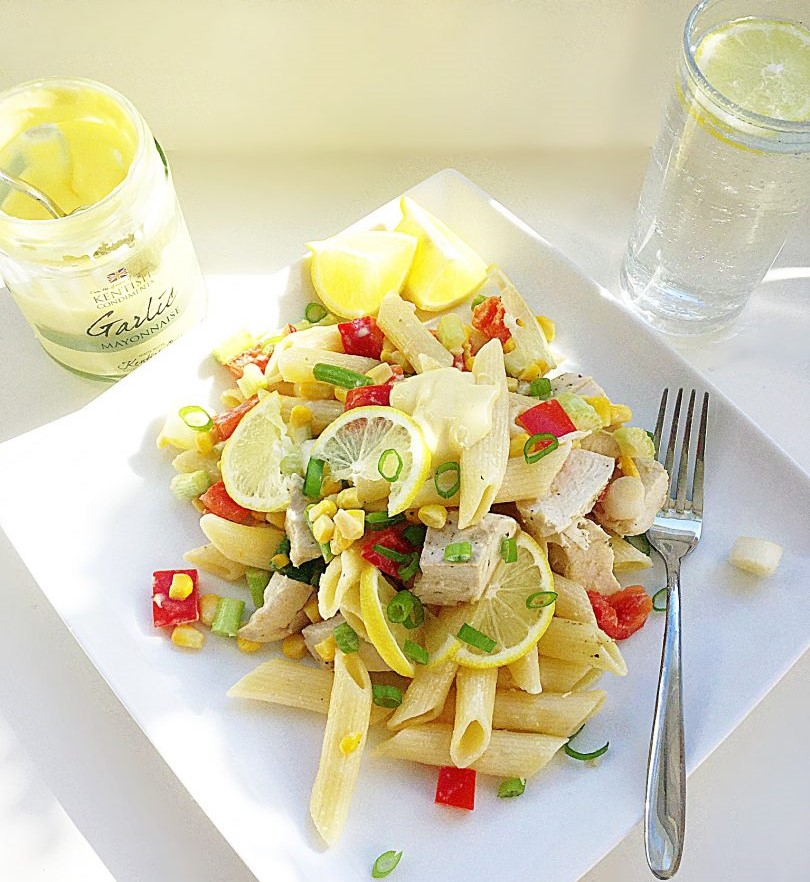 Ingredients
Serves 6
450g/1lb – Four Chicken Breasts skin and bone removed
3-4 Whole Lemons – washed and dried
2 Sweetcorn Cobs – approximately 275g/10oz or the equivalent tinned sweetcorn – drained
450g/1lb Pasta
8 Spring Onions (scallions)
2 Red Bell Peppers
2 Sticks of Celery
125g/4.5oz – approximately 5 tablespoons of Garlic Mayonnaise (plus extra to garnish)
Sea salt and freshly ground black pepper to season
Method
Preheat the oven to 180C/160C fan, 325F, gas mark 3.
Place the chicken breasts in an ovenproof dish. Season with sea salt, freshly ground black pepper and the juice from two whole lemons.
Cover the dish with aluminium foil and bake in the centre of the oven for 45 minutes.
While the chicken is cooking place a large pan of water on a high heat. As soon as the water is boiling add 1 teaspoon of sea salt and then add the pasta. Cook the pasta according to the packet instructions.
Chop the spring onions, red peppers and celery to about the same size and place in a large bowl. If using tinned sweetcorn add it to the bowl.
Stand a sweetcorn cob on one end and carefully cut down between the husk and the corn. Turn the cob and repeat until all of the corn is removed. Repeat for the second cob.
3 minutes before the pasta has finished cooking add the fresh sweetcorn to the pan.
Once cooked drain the pasta and sweetcorn.
After 45 minutes check that the chicken is thoroughly cooked.
As soon as the chicken is cooked remove from the oven and place the chicken breasts on a plate for 10 minutes to rest.
Cut the chicken into slices.
Add the cooked pasta and sweetcorn to the bowl and the add the garlic mayonnaise. Mix using a large spoon.
Now add the sliced chicken to the bowl and mix again.
Taste and check for seasoning, adjust if needed.
Cover the bowl with cling film and refrigerate until ready to eat. This dish tastes best when it is fridge cold.
Serve the salad with very thin slices of lemon, extra wedges of lemon to squeeze over and a drizzle of garlic mayonnaise.
Keep any leftovers refrigerated in an airtight container and eat within two days.
To view the original recipe, visit Feasting Is Fun.
Featured in this recipe