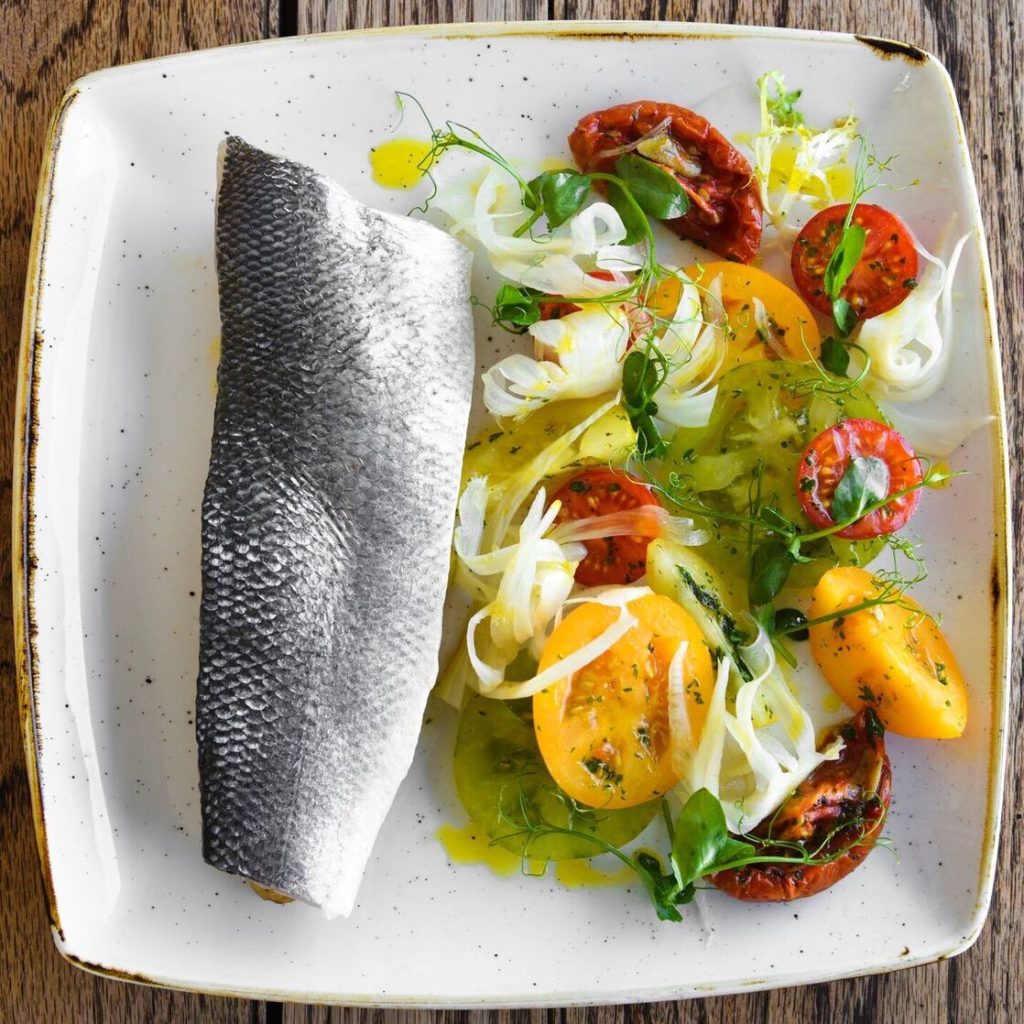 Ingredients
Serves 4
"This dish is light and summery.  We are lucky enough to have Thanet Earth tomatoes up the road from the Minster restaurant and they produce amazing heritage tomatoes that are bursting with flavour.  This dish is also very healthy ad can be cooked at home quickly & easily.  Top Tip: Always serve tomatoes at room temperature and never from the fridge.  The difference in flavour is incredible."
4 sea bass fillets
1 fennel
2 banana shallots, finely chopped
1/2 bunch tarragon, finely chopped
1 lemon, finely sliced
1 bunch dill
1 bottle Biddenden cider
100g butter
500g heritage tomatoes
500g new potatoes
50ml Kentish Oils rapeseed oil
Sherry vinegar, just a dash
Salt & Pepper
Method
Firstly get the new potatoes on the go.  Place in a pan with cold water and a pinch of salt.  Bring to the boil and then simmer for 15 minutes until they are cooked, pierce with a knife to check.  Once cooked allow to cool naturally.  Slice in half, drizzle with rapeseed oil, season and bake in the oven for 15 minutes until golden and crisp.
To make the steaming bags, roll out the foil and baking paper to 60cm.  Put the foil on top of the baking paper and fold in half, then half and half and half until you have made an origami fan.  Slice the end off with scissors and open up all 4 bags.
Slice the fennel super thin, ideally on a mandolin, and put straight into ice water.  This makes the fennel go beautifully crispy and perfect for the tomato salad.  Put aside.
Put 2 pieces of sliced lemon in the centre of each of the bags.  Cover with dill, a knob of butter and a couple of slices of fennel on top.
Lightly season your sea bass and place on top of the fennel, skin-side on top.
Fold back in half the bag and seal up the ends.  Place a swig of Biddenden Cider in the bag and seal.
Place on baking trays in the oven at 180ºC for 12 minutes.
Whilst the sea bass is steaming in the oven, slice up the heritage tomatoes in different shapes & sizes.  Lightly mix in a bowl with the shallots, fennel and tarragon.  Add a little rapeseed oil, a dash of Sherry vinegar and seasoning to taste.
To serve, place the sea bass on top of the roasted new potatoes and position the tomato salad on the side.  We put a few pea shoots on top of ours, which adds a lovely fresh flavour.  However you can use a little frisée lettuce instead.
Featured in this recipe